Welcome to The Clifton Springs Historical Society
The Clifton Springs Historical Society was formed to inspire community memory on both personal and scholarly levels by preserving and sharing the story of Clifton Spring's Village , its people and the early Water Cure, which caused it to grow and expand. Our Mission is to collect and display items of our history in order to promote a better understanding of our area for present and future generations. We plan on fulfilling this mission by maintaining a strong historical society so that with a central museum and active website this history may be available on a regular basis to the general public. By gathering and preserving significant artifacts, documents and photographs we may thereby provide a reservoir of information to help illustrate that history.

The Foster Cottage Museum and Our Historical Society is committed to conducting ourselves in the highest level of professional and ethical standards. We will strive for excellence in service and, to the best of our abilities, help, aid and assist people in their research of that rich history. By these efforts we hope to show our dedication to our democratic way of life and its expression in this community, the state and nation. Thus may we help promote a better appreciation of our American heritage.
MEMBERSHIP & DONATIONS
Become a member of the Clifton Springs Historical Society!
---
Learn how to donate to the Historical Society.
CLIFTON SPRINGS THROUGH THE YEARS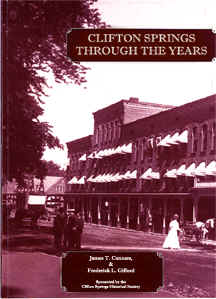 The Clifton Springs Historical Society presents a NEW BOOK - CLIFTON SPRINGS THROUGH THE YEARS
A History of the Village of Clifton Springs - By James Conners & Frederick Gifford

To read an excerpt from the book click here
For order form please click here
ARTICLES
November 6, 2014
By Jim Conners, Village Historian
We know that Dr. Foster's spirit lives on in the Clifton Springs Hospital & Clinic, and now his spirit can live on in each of our lives. It is truly amazing how things come together, for some they may be called coincidences but for many they are called God-incidences, and here is one of them.